As an Amazon Associate and member of other affiliate programs, we may earn commission from links in this post. For more info, visit our affiliates page.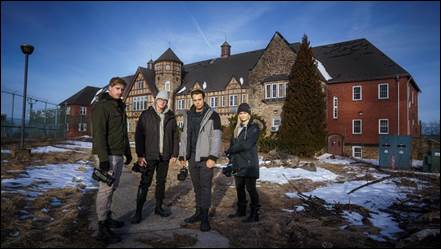 When Travel Channel announced Destination Fear season 4, I figured it'd be a pretty standard affair containing what it always does. That is to say, start dates, episode names and locations, and something to the effect of how it'll be the scariest season yet.
Season 4's announcement did contain all of that, including the promise that, yes, the Destination Fear team would level up their fear experiment in their darkest, most terrifying road trip yet. Emphasis on the "darkest" since Dakota takes away everybody's flashlights.
Say what? For the whole season or just while investigating one location?
Since I knew others were wondering the same thing, the no flashlights question was the first one I asked when I spoke with Dakota Laden, Tanner Wiseman, and Alex Schroder about Destination Fear season 4. But we also talked about what inspired his decision to take flashlights away, the location that felt like a horror movie come to life, how Trail to Terror influenced at least one of this season's location picks, and season 4's G.O.A.T (Greatest of All Time) haunted location.
After talking with them, I was convinced this truly might be their most terrifying road trip yet. Not just for fans to watch but also that they've personally undertaken. It's also a season it seems Alex had a lot of influence on in his own way. (Don't let his nice face fool ya'. He's got an ornery streak! Or a "dark side," as he put it.)
Here's a summary of our conversation. If you want to listen to the full interview, it's also embedded below.
1. The Goal of Taking Away the Flashlights
Kudos to Dakota, Chelsea, Tanner, and Alex for finding a way to ramp up the tour de terror this season. No flashlights will do that, but where did that idea come from? And will it only extend to one location this season or to all of them?
Dakota explained it was all thanks to Alex. In season 3, he took away everybody's flashlights. (Episode 6, "Oddfellows Home.") Afterward (when they all survived the night), they all agreed that definitely ramped up the scary factor.
Or, as Dakota summed it up, "Going into the season, I wanted to do something to amplify the fear more than ever before. So taking away our flashlights from the very start of the season was the goal."
2. No flashlights all season long?
Yep.
As Dakota put it, "It brought about some near-tragic accidents, but it was awesome."
3. Did Tanner find the G.O.A.T of all haunted locations this season?
The episode description for the season's fourth episode, "Old Historic Harriman Hospital," declares that Tanner may have found the G.O.A.T. of all haunted locations when he picks out a deserted Tennessee hospital for the next stop.
That's why I asked if he found the winner, winner chicken dinner of haunted locations this season in that one.
Maybe.
Tanner explained it was one of those special places because it's never been seen on TV before. It was also massive and scary —and perhaps massively scary. He said it made them scream a little bit.
Which caused Dakota to interrupt him and question, "A little bit? A lot of bit!"
4. Speaking of the scream factor…
Was there any place that won the prize for inducing the most screams?
They all agreed that was a tough question, and each location prompted screams for different reasons. However, Dakota explained that the first location had a bunch of terrifying moments they weren't ready for.
5. Cresson
Another first this season involved the location featured in the first and second episodes, "Cresson Sanatorium and Prison." Part one airs as the season premiere on November 25. Part two airs on December 2. It's the first time they've split a location up this way.
Part two especially piqued my interest because of the episode description:
Dakota Laden's diabolical dive into darkness continues when he blindsides the team with a double dose of terror at an abandoned Pennsylvania sanatorium. Can they handle a night in the cell block where one of America's most horrific serial killers was housed?
The serial killer, Joseph Kallinger, was not actually a serial killer —but he may well have been on his way when he was caught. He did kill three people and tortured others, though, and, in general, was not a nice guy. Dakota explained Kallinger died in his cell in Cresson, and it was among the places they investigated.
Was Cresson's cell also one of their picks for a place to sleep at night? Of course! However, Dakota said it wasn't the scariest location. The person who got the tunnels had it the worst.
I didn't press him to find out who that unlucky soul was. I knew what he was doing. Teasing so we'd tune in to find out who it was. Well played, Mr. Laden.
Dakota also said on night one they focused on the sanatorium, then on the prison in part two. Ans that the sanatorium investigation was so creepy and terrifying enough, but the second night was straight out of a horror movie.
6. Return to Ashmore Estates: Why Alex Picked It
Again I will refer to an intriguing season 4 episode description, "Ashmore Estates" (episode 6).
Alex Schroeder has a big surprise in store for Dakota Laden, Chelsea Laden, and Tanner Wiseman when he takes them back to a decrepit Illinois poorhouse so scary that they swore never to return. But will tragic new information about this location force the team to re-evaluate the haunting?
I knew better than to ask what tragic new information they learned. That's what you call a hook to make people want to watch the episode. But I could ask why did Alex make them go back there.
His answer made a ton of sense: because he hadn't been with them on the Trail to Terror route. After hearing them all talk about it, and even seeing some of the raw footage, he wanted to experience it for himself.
7. Will there be a live stream before the premiere of Destination Fear season 4?
I Twitter-stalked #DestinationFear to see if fans had any questions I might not think to ask. A few did. Namely, would the team be doing a live stream prior to the season 4 premiere like they apparently have in the past.
Dakota didn't have all the details, but he said they likely would do a live stream somewhere. He wasn't sure if it'd be on Instagram, Facebook, Twitter or a combo of some or all of them.
But they're all active on their socials and really good about keeping everyone informed of what special things they do. That's the best way to find out more about how to catch any live stream they might do.
Follow the team on Twitter: @DakotaLaden, @ChelseaLaden, @Tanner_Wiseman, and @Alex_Schroeder4.
Follow @TravelChannel and #DestinationFear on Facebook, Twitter, and Instagram for additional content and updates.
And check out @discoveryplus on Instagram, Facebook, and Twitter.
The Full Interview
For More Info
Destination Fear season 4 premieres with "Cresson Sanatorium and Prison, Part One" on Friday, November 25 at 9 p.m. ET/PT on Travel Channel. It also streams the same day on discovery+.
Check-In
Do you think you could sleep alone in a paranormal hot spot zone in a haunted place without a flashlight?
Courtney Mroch is a globe-trotting restless spirit who's both possessed by wanderlust and the spirit of adventure, as well as obsessed with true crime, horror, the paranormal, and weird days. Perhaps it has something to do with her genes? She is related to occult royalty after all. Marie Laveau the voodoo queen is one of her ancestors.
Be sure to also check out HJ's Origin Story to learn how Courtney channeled her battle with cancer to conjure up this site.
Related